Welcome Back Santa Barbara
Welcome Back Santa Barbara
Le Reve Organic Spa & Boutique would like to welcome you back Santa Barbara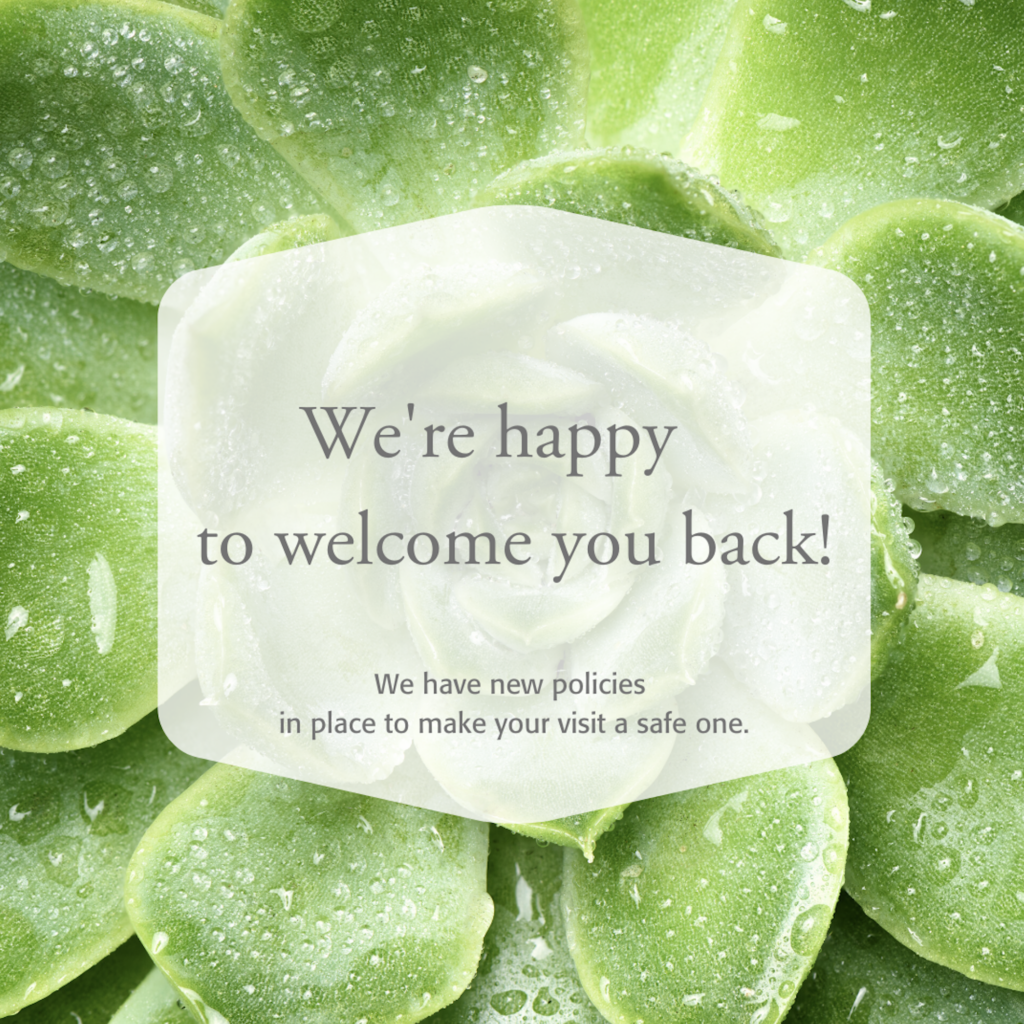 Spa Treatments 
Le Reve Organic Spa & Boutique would like to officially welcome you back Santa Barbara! We have missed you and are excited for your return. Our fantastic service providers are eager to get back to doing what we do best which is providing luxurious organic spa treatments for all. Le Reve Spa Santa Barbara is currently available seven days a week by appointment. We are currently offering facials, massage, body treatments, sunless tan, waxing, and nail services such as  manicure and pedicures. Appointments for spa services may be made by phone . Please call 805-564-2977 to speak with a Le Reve Spa Coordinator in order to reserve your next spa treatment. You may also book Le Reve spa treatments online.
Organic Boutique
Our organics spa boutique is now open to the public. However, we will continue to provide curbside pick up and delivery for those who request it. Products may be purchased at the Le Reve Online Store or by phone. We encourage those with compromised immunity to exercise these options. We are committed to your health and safety and are here to help.
---
Thank you for your Support

I would like to personally thank all of you for your support and patience during our closure. I know that the last few months have been rough for many and am beyond thrilled to be able to bring back the much needed self-care, wellness, and human connection that is so crucial in our mental and physical health in a way that I know only Le Reve can.  Your  health, wellness, and safety along with our wonderful team is always our first priority.  At this time we have included additional measures to help assure that a safe environment is maintained for staff and guests alike. We are closely following guidelines from various organizations and have implemented additional practices provided by the CDC and the state of California. We have also incorporated extra sanitizing and disinfecting measures of our own to help mitigate risks in the age of COVID-19. Please familiarize yourself with our new standards for entry to Le Reve Organic Spa & Boutique. 
See you at the spa!

Bridgette
---
*Read on for Current Spa Policy
As always, our standard cleaning includes:
Hospital-grade professional cleaning solutions that are 99.99% effective in destroying harmful germs, viruses, and bacteria.
Nightly deep-cleaning of all amenities and locations within the spa.
Cleaning and disinfecting of each treatment room after every service.
Each Massage Therapist, Nail Technician, Spa Coordinator, and Esthetician received additional training on Health, Hygiene, Sanitation and Disinfection
As always, we follow the guidance of:
Federal, State, and Local Governments
Occupational Safety and Health Administrations (OSHA)
California State Board of Cosmetology
California Massage Therapy Counsel
Federation of State Massage Therapy Boards (FSMTB)
Center for Disease Control (CDC)
We Invest in Your Health and Well-being and will continue to implement services, treatments, and experiences to enhance and maintain the health and well-being of our guests and employees.
  We are implementing:
HEPA-certified air purifiers will be utilized in every treatment room and common area.
We offer contact-free payments allow you to place a credit card on file and check out seamlessly with your phone
Only staff and clients receiving services will permitted in the Le Reve spa area.
We Maintain the Highest Standards
Maintaining a healthy environment has always been critically important to us and following the guidance of reputable professional and governmental organizations is our standard practice. We invest in your health and well-being and will continue to implement services, treatments, and experiences to enhance and maintain the health and well-being of our guests and employees.
At this time, we are implementing:
All guests and employees must wear a mask while visiting the spa.
Personal Protective Equipment (PPE) is provided to all employees.
All employees and guests will undergo wellness checks and symptom screenings, including a temperature check with a touch-less thermometer before entering the spa.
Some amenities may temporarily be closed per government guidelines – when booking, inquire about available services and amenities
Smock change for all body treatments as well as massage
Physical distancing markers will be visible to help maintain a distance of 6-feet from other guests in the common areas.
We've updated some policiesTo provide a safe and healthy environment for guests and staff we have update our policies:
May leave a cash gratuity at checkout for your service technician
Use a Gift Card or E-Gift Certificate for payment.
At this time, we are:
Asking guests to arrive 10min early and call when then arrive to checkin.
Only staff and guests receiving services, unless guest requires an aid, will be permitted to enter the spa.
Charging guests 100% of service fee if a guest does not show and does not call to cancel.
Only allowing staff handle to handle retail product.
Not accepting returns for specific retail items.
Not accepting SpaFinder Gift Cards for payment.
Tags: best day spa santa barbara, facial santa barbara, mani pedi santa barbara, mani santa barbara, manicures, manicures santa barbara, massage santa barbara, nail bar santa barbara, nail salon santa barbara, open spa santa barbara, pedi santa barbara, pedicure santa barbara, spa santa barbara, Sunless Tan, waxing santa barbara