Skin Health – Exfoliation
Le Reve would like to bring to light the importance of exfoliating
The skin is the largest organ of our body. It functions to encapsulate and protect your inner organs, to regulate body temperature, to maintain hydration, and more! The skin acts as a barrier for environmental aggressors, and variations in pressures, and temperature. It helps to regulate body temperature, circulation, and fluid. On top of all of this, it contains a network of nerve cells that detect and relay important information such as temperature or chemical changes in the environment as well as injury. With all the vital functions your skin provides to you it is important to take good care of it.
The Importance of Exfoliating
Regular exfoliation not only helps to remove dead skin and impurities but also stimulates collagen. Collagen is what provides our skin strength, elasticity, and the ability to replace dead skin cells. In short, an exfoliation is an important tool in helping our skin to function properly and efficiently as well as keep it looking its best! Whilst you may need to
Reduce Your Symptoms with Raynauds Gloves
if you suffer other issues, these treatments can really help maintain your skin health. When it comes to exfoliation Le Reve provides several methods to choose from.
Body Exfoliates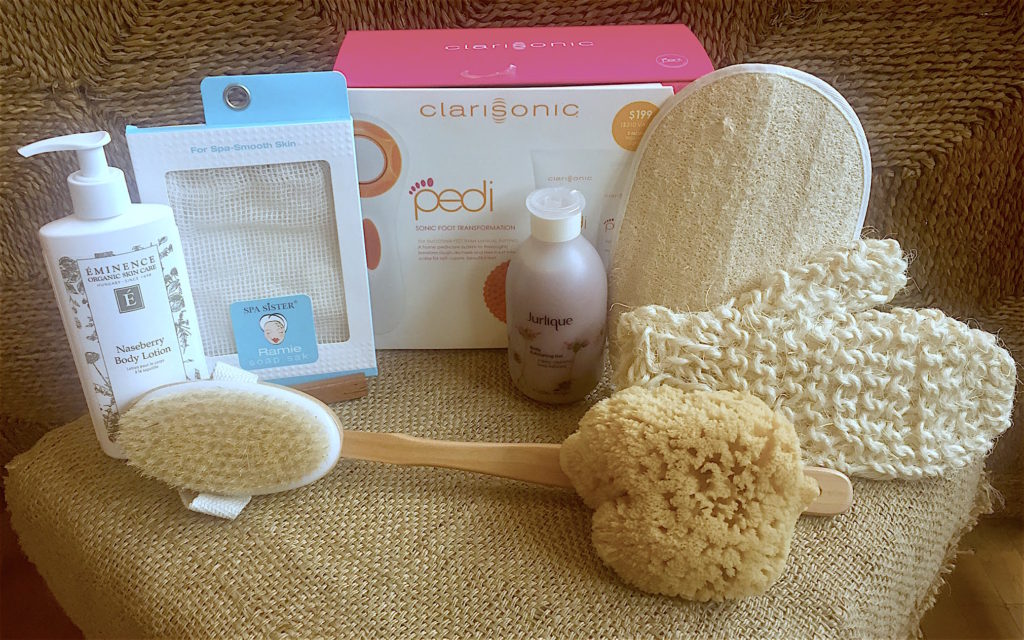 There are several wonderful options to choose from for exfoliating the body such as lotions, polishes, sponges, brushes, sisal soap sacks, Clarisonic, and mitts or gloves.
Light Exfoliation
If you tend to exfoliate more regularly or on a daily basis then you are most likely to benefit from a few of our lighter methods such as the Eminence Naseberry Body Lotion, sea sponges or brushes. The
Eminence Naseberry Body Lotion
is a natural glycol which means that it lightly exfoliates allowing for the moisturizing properties to fully penetrate the skin. Our
Sea Sponges
can be used with anybody cleanser or simply with warm water to help lightly lift and remove impurities and dead skin. The Body Brush is designed to use dry. We offer them in both a
short brush
and
long detachable body brush
Dead skin and impurities are removed with light gentle strokes applied to the leg, arm, back, stomach or hip area. Applying the gentle strokes on the arms and legs towards the direction of the heart also helps in lymphatic flow. This is another great way to detoxify the body!
Medium to Heavy Exfoliation
If you exfoliate once a week or less than you would do well by using our body polish, sissal glove, mitt, washcloths, or soap sacks. These options are better designed to remove the build-up of impurities and dead skin. The
Jurlique Herbal Body Polish
provides antioxidants to fortify and walnut shell to gently lift away dead skin.
Sissal
or
Rami Washcloths
are great for using with cleanser or simply warm water to help remove dead skin and build up from day-to-day environmental aggressors. What's even better yet is that these materials are naturally antimicrobial so they wear well over time!
Sissal Mitt
or
Glove
provide a little more exfoliation than the washcloths in that they are firmer and because of this remove even more dead skin. This method is great for removing seasonal buildup and may leave skin slightly pink after application. Ever since I was a little girl our family would use these wonderful options to slough off dead skin and stimulate collagen when we would go to the steambaths together. Many cultures use dry brushing and sissal treatments to detoxify their skin and help to lower the development of cellulite.
Dry Brushing
can have a myriad of benefits for the skin, it's always best to look it up and see if it is the right thing for you to use in your body skincare regime for the future.
Facial Exfoliation
There are more gentle exfoliates to choose from for the face, neck and decollete area. Some of these methods include dermafoliants, peels, treatments, brushes, and cleansers. The
Eminence Strawberry Dermafoliant
provides lactic acid to help eat away at dead skin like little Packmen. The
Yam and Pumpkin Enzyme Peel
is a 5% mask designed to remove a good amount of impurities and dead skin just by leaving it on for 5 to 10 minutes! Pumpkin super packed with skin brightening factors to help improve complexion.
Natural Facial Brush
like the dry brush or
Clarisonic
help to exfoliate and stimulate increasing collagen production. When used properly natural brushes also help to removed toxins improving skin condition and overall appearance. Learn more about exfoliation and which type is best for your skin's needs by speaking with a Le Reve esthetician. We are here 7 days a week and are happy to help!
See you at the spa!
:)_Bridgette
Le Reve Organic spa & Boutique
21 W. Gutierrez St Santa Barbara
805-564-2977
Save
Save