A Natural Hydroquinone Alertnative!
Hello Le Reve Spa Lovers!
I would like to tell you a little about the
Fight off the appearance of uneven pigmentation with our Bright Skin Masque.
Natural Hydroquinone Alternative and Gigawhite™ help brighten skin's appearance and reduce the appearance of dark spots and the signs of aging.
Cruelty-free and formulated without parabens, sodium lauryl sulfates, synthetic dyes, petrochemicals, animal by-products, phthalates, GMOs and triclosan.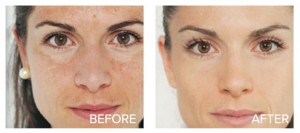 RESULTS: 

Skin appears smoother, calmer and firmer,

 moisturized, more vitalized, and 

luminous and glowing. 

The appearance of dark spots are lightened leaving your overall c

omplexion bright and even
Bearberry Extract: antioxidant; lightens the appearance of dark spots GigaWhite™: antioxidant; a powerful blend to restore luminosity to the skin's appearance Licorice Root: antioxidants; soothing Natural Hydroquinone Alternative: a natural brightening agent made with African potato and tara tree for a smooth, radiant looking complexion. Stone Crop: hydrating and nourishing for uneven skin tones BioComplex™: a booster of antioxidants, vitamins, Coenzyme Q10, and Alpha Lipoic Acid to reduce the appearance of wrinkles and improve the appearance of skin
How to use: Emulsify a small amount of masque in your hand with a few drops of water. Apply evenly over the entire face as well as the neck and décolleté areas if desired. Allow masque to dry 5–10 minutes then gently scrub off in a circular motion with a lukewarm face cloth. Rinse thoroughly with clear water.