Waterproof Sunscreen: What You Should Know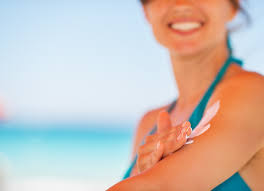 When it comes to Waterproof Sunscreen the skin care professionals at Le Reve Organic Spa & Boutique have received a steady flow of questions on why it seems so much harder to find on the shelf lately. Well, here is the skinny from our very own chemist and skin care specialist, Bridgette
 Hello Le Reve Followers!

Waterproof Sunscreen – FDA Classifications 

So on June 18th of 2012 the FDA declared that sunscreens were no longer allowed to claim that they are waterproof. There are now two classification which are permitted by the FDA. Those two classifications are 'water resistant' for 40 minutes or 'water resistant' for 80 minutes. What this means for you, the consumer, is that after applying your sunscreen you may swim or sweat for this promised period of time and be protected. The FDA's reasoning for this is that any sunscreen application may begin to wear down over time. So no matter what we can expect that after a period of time we can expect our sun protection to no longer be effective in protecting you from the suns harmful UVA and UVB rays.

Waterproof Sunscreen – Mineral Sunblock

Some of you may be asking yourselves why our mineral sunblock is not considered 'waterproof'. I am certain that a few of you have probably heard my lectures on using mineral sunblock and the benefits of the barrier sun protection versus sunscreen such as minerals being naturally hydrophobic or "water-fearing". Mineral sun protection sits on top of the skins surface creating a barrier to environmental pollutants as well as damaging sun rays. When thrown in water true minerals will float because of their waterproof nature.

 

Since

true

minerals by definition are waterproof it is true that they do not readily wash away.

So why are they not deemed waterproof under the new FDA classification?

The reasoning here is that while mineral sunblock does not readily wash off it can rub off in water or sweat-inducing activity. Therefore, Mineral Sunblock must be reapplied throughout the day in order to provide you the necessary protection from UVA and UVB rays.

Waterproof Sunscreen – How are some sunscreens still stating that they are water proof?

Well, that is an excellent question. The short answer is that they are not.  Any product (even waterproof minerals) that are applied to sit on the skin's surface can be rubbed off and are therefore classified by the FDA as being water-resistant and not waterproof. So then

it goes without saying that any sun protection promising to be waterproof does not simply function by sitting atop the skin. M

ost sun protectors who manage to promise being waterproof do this by incorporating a chemical sunscreen. It should be noted that c

hemical sunscreens are not hydrophobic or waterproof. So then why are they classified this way? Chemical sunscreens work by penetrating the skins surface to absorb damaging UV rays and expel them as heat. Since something which is absorbed into the skin cannot be readily washed off the products containing these type of chemical sunscreens sunscreens can promise to be waterproof. 

Waterproof Sunscreen – So why not only use chemical sunscreens instead of sunblock since they can promise waterproof sun protection?   

Many chemical sunscreens contain endocrine disruptors. What this means for you is that once absorbed into the bloodstream these chemicals have the ability to disrupt your hormones and accelerate the aging process, contributing to Melanoma and Carcinoma.

Waterproof Sunscreen – Beware of nano particles

It should be noted that some physical sunblocks can also absorb into the skins pores when the minerals which make them up are ground beyond the recommended micronized particle size. So make sure to verify that your mineral block states that it does not contain nano particles. Curious to learn more about alternative skin care options to the synthetic chemical products available, stop by Le Reve Organic Spa & Boutique in beautiful downtown Santa Barbara. I am happy to share my extensive chemistry knowledge. You may also email skin inquiries to

[email protected]

.
See you at the spa!
Bridgette
Le Reve Organic Spa and Boutique does offer chemical-free sun protection, but we are very careful about the claims we make, and at the end of the day we would prefer you not think of any sunscreen as waterproof or water-resistant. We instead recommend that you reapply sunscreen every hour for fair, easily burned skin, and at least every two hours for darker skin tones. As a friendly reminder please always apply after emerging from the water activities or working up a sweat.
Le Reve Organic Spa & Boutique
21 W. Gutierrez St Santa Barbara, Ca. 93101