Sun Protection
The

S

U

N

is shinning and the

SU

ME

R

S

E

AS

ON

is upon us Santa Barbara. Remember that using sun protection is a MUST!
Make sure that you are taking the time to protect your beautiful skin from the suns damaging rays with great UVA/UVB sun protection like the Eminence Tropical Vanilla Day Cream or Tropical Vanilla Body Sunscreen, Eminence Tomato Day Cream SPF16, Jurlique Sun Specialist, La Bella Donna Translucent Sun Protection or Sea & Summit Sun Stick.
---
ULTRAVIOLET RAYS
UVA rays
penetrate deep into the dermis (the skin's thickest layer) and can lead to premature aging and wrinkling of the skin, as well as immune suppression when left unprotected. Even when you're gardening it's important to seek shelter in somewhere like a utility shed, as it's surprising just how little exposure you need in order to cause damage.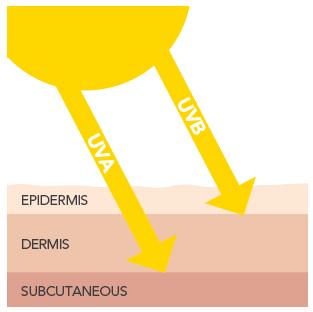 UVB rays will usually burn the superficial layers (the epidermis) of your skin.
It only takes 15 minutes to begin to see the damaging effects of this ultraviolet light.

---
LIQUID SUN PROTECTION
Liquid Sun Protection comes in two different forms; Sunblock and Sunscreen. Here at Le Reve Organic Spa & Boutique you will find sun protection in every form.
SUNBLOCK
Sunblock is also referred to as a
physical block
or
mineral defense sun protection
system. This is a recommended type of sun protection for anyone who is outdoors for extended periods of time. With sunblock minerals such as
titanium dioxide
and
zinc oxide
create a barrier against both the sun's UVA and UVB rays. Sunblock is typically thicker and because the minerals used in sunblock are usually white in color a slight cant may remain visible when applied to the skin. If you are concerned with looking pale because of sunblock, rest assured that these products which do leave a slightly visible mineral appearance are subtle. Additionally, it is important to note that this form of liquid sun protection cannot be beat by the chemical sunscreen method. If you are only interested in a sunblock or mineral defense sun protection product then
La Bella Donna Translucent Sun Protection, Eminence Tomato Day Cream, or the Sea & Summit Sun Stick
is for you! If you are admit that sunblock is not for you, all then you have two remaining options: Liquid Sunscreen or a Combination of sunblock and sunscreen together.
SUNSCREEN
Sunscreen is also referred to as
chemical sun protection
. This form of liquid sun protection is more lightweight and virtually transparent. With sunscreen chemicals such as
oxybenzone
,
avobenzone
,
octisalate
,
octocrylene
,
homosalate
and
octinoxate
are included in the skincare product to screen the suns harmful UVA and UVB rays. These chemical additives absorb and disperse UVB rays, preventing them from penetrating skin. Sunscreen can and should be used on a daily basis for regular activity like your work commute. If you are interested in this type of sun protection then
Eminence Tropical Vanilla Day Cream, Tropical Vanilla Body Sunscreen
and
Jurlique Sun Specialist
are for you!  
*Want to learn more about Chemical Sunscreen? Follow our blog for future installments!!!
---
ADDITIONAL METHODS OF SUN PROTECTION
There are also a few things aside from our main defense; wearing sunblock and/or sunscreen that we can do to help lower our chances of UV skin damage.The first defense; avoid prolong exposure to the sun. This is the easiest and most sure-proof way to protect your skin. However, for many of us, the idea of limiting your time outside when the sun is shining is simply not an option. If this last statement is true for you remember these other defenses. The second defense; wear hats. Sporting a sexy summer hat with a wide brim does more than just make you look super chic, it protects your face , neck, and decolletté from direct sun light. Make sun protection a fashion statement! Our third defense; long sleeve shirt and pants.
Simply combine all of these defenses with your sunscreen and/or sun block and become the poster-child for great healthy skin!
---
Fake it, Don't Bake it!
When it comes to your beautiful skin don't damage it trying for that summer glow. Wear your sunblock and get your real tan at
Le Reve Organic Spa & Boutique
, to keep skin healthy and smooth.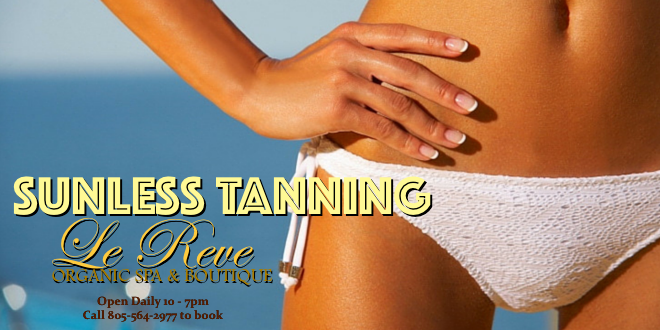 Call
805-564-2977
to book your Le Reve Sunless Tan with a spa coordinator or you may also
book online
.
See you at the spa!_Bridgette
Le Reve Organic Spa & Boutique
21 W Gutierrez St Santa Barbara Ca 93101