Happiness is a Day at Le Reve
Happiness is a Day at Le Reve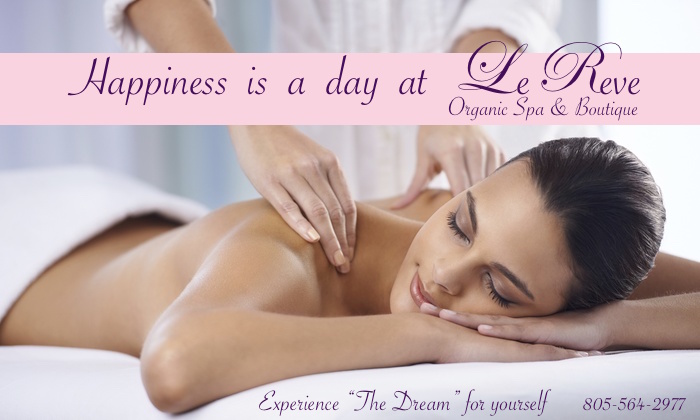 Le Reve Organic Spa & Boutique is opened 7 days a week from 10am – 7pm
Happiness is a day at Le Reve and who are we to deny you happiness. This is why we at Le Reve offer many amazing spa services at our day spa including Facials, Body Treatments, Massage, Sunless Tanning, Waxing, Tinting, Manicures, Pedicures, and more using only the BEST in organic skin care! It is for you, our client!

Allow Le Reve to exceed all your spa expectations! 
Find out more about Le Reve by visiting Le Reve at  www.le-reve.com to find out more!
Happiness is a day at Le Reve so why treat your friends and family to a wonderful spa service at Le Reve Organic Spa & Boutique

Click image to purchase a purchase a gift certificate
All Le Reve Spa Gift Cards purchased in house come wrapped and ready to gift!
If you are interested in hosting a Spa Party or one of our Girls Night Out Events please contact a Le Reve Coordinator at 805-564-2977
See you at the spa!_Bridgette
Le Reve Organic Spa & Boutique
21 W. Gutierrez St Santa Barbara Ca 93101
Tags: california day spa, day spa santa barbara, happiness, le reve organic boutique, le reve spa, lerevespa, organic day spa, organic spa treatments, santa barbara dayspa, spa day, Spa Treatments