Deep Tissue Massage
Deep Tissue Massage is designed to relieve severe tension in the muscle and the connective tissue or fascia. This type of massage focuses on the muscles located below the surface of the top muscles. Deep tissue massage is often recommended for individuals who experience consistent pain, are involved in heavy physical activity, such as athletes, and patients who have sustained physical injury. It is also not uncommon for receivers of Deep Tissue Massage to have their pain replaced with a new muscle ache for a day or two.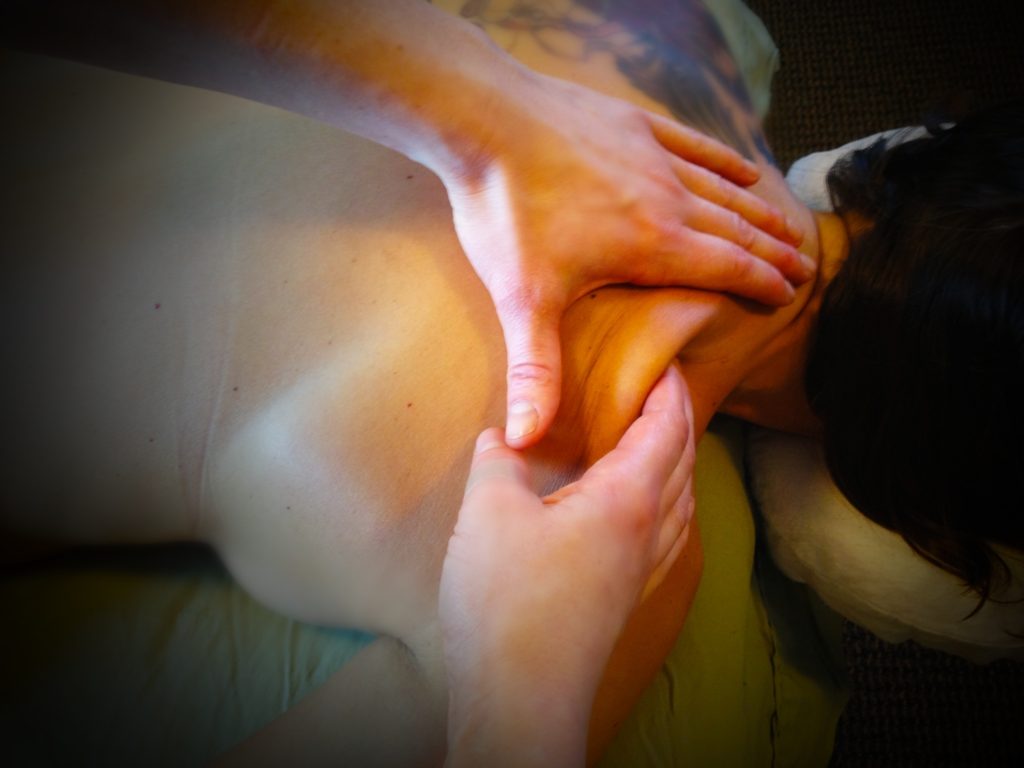 Deep tissue work varies greatly. What one calls deep tissue another will call light. When receiving deep tissue work it is important to communicate what you are feeling.
How does deep tissue massage work? When there is chronic muscle tension or injury, there are usually adhesions (bands of painful, rigid tissue) in muscles, tendons, and ligaments. Adhesions can block circulation and cause pain, limited movement, and inflammation. Deep tissue massage works by physically breaking down this adhesion to relieve pain and restore normal movement. To do this, the massage therapist often uses direct deep pressure or friction applied across the grain of the muscles. If this is persistent pain, there will be a need to see a professional like a physical therapist. This can be sorted through websites like https://www.getluna.com/orange-county-physical-therapy so you get the correct help.
Will deep tissue massage hurt? At certain points during the massage, most people find there is usually some discomfort and pain. It is important to tell the massage therapist when things hurt and if any soreness or pain you experience is outside your comfort range. There is usually some stiffness or pain after a deep tissue massage, but it should subside within a day or so. The massage therapist may recommend applying ice to the area after the massage. If you have poor mobility then there is the probability your mobility may decrease. If nessessary you may need to have a mobile deep tissue massage therapist come to your home to perform the massage.
What conditions is deep tissue massage used for? Unlike classic massage therapy, which is used for relaxation, deep tissue massage usually focuses on a specific problem, such as:
Chronic pain limited mobility
Recovery from injuries (e.g. whiplash, falls, sports injury)
Repetitive strain injury, such as carpal tunnel syndrome
Postural problems
Osteoarthritis pain
Fibromyalgia
Muscle tension or spasm
According to the August 2005 issue of Consumer Reports magazine, 34,000 people ranked deep tissue massage more effective in relieving osteoarthritis pain than physical therapy, exercise, prescription medications, chiropractic, acupuncture, diet, glucosamine, and over-the-counter drugs. Deep tissue massage also received a top ranking for fibromyalgia pain. People often notice improved range of motion immediately after a deep tissue massage.
I feel so privileged to have such a caring and talented staff at Le Reve. Our Massage Therapist are absolutely exceptional. So whether you are needing a relaxing or a deeper more therapeutic type of massage Le Reve has you covered. Be sure to check out our tweets because every week I tweet a special Spa Offering and you could get a 1 1/2 hour massage for the price of a 1hour.
See you at the spa!
Bridgette