Eminence Soothing Chamomile Tonique
Hello Fellow Sensitive Skin Friends!
   At Le Reve we have a quite few clients who struggle on a regular with extremely sensitive skin. Often our these clients come to us after trying products which leave them experiencing intense reactions and shy to try anything new. The first thing that our estheticians do is provide a skin analysis.
     A skin analysis is something that we all should all do prior to setting up a skin care regimen. It is also something we offer complimentary at Le Reve so there is really no excuse to not have a regimen designed to meet your individual skincare needs.
     From there your esthetician will write you a skin care prescription card with any masks, cleansers, toners, serums, and/or moisturizers recommended to help address your skin concerns while meeting your skin's individual requirements.
      Quite frequently our service providers are able to help guide sensitive skin back to a healthy, happy, less reactive state.
Have a skin care question for our estheticians?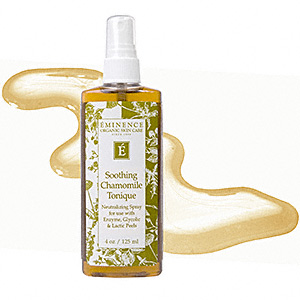 This is my

NUMBER 1

recommendation for SENSITIVE SKIN
This is a soothing and calming tonique to use alone or with 
enzyme, 
glycolic and lactic peels for all skin types, 
particularly normal to 
oily skin. 
Soothing herbs will 
restore the skin's balance. 
Cruelty-free and formulated without parabens, 
sodium lauryl sulfates, animal by-products, 
synthetic dyes, petrochemicals, phthalates, 
GMOs and triclosan.
Wishing you Happy & Healthy Skin Always,
:)Bridgette
Spa Manager at Le Reve Spa & Boutique
Tags: carpinteria, day spa, deal of the day, Eminence, goleta, montecito, Organic, santa barbara, sensitive skin, Skin Care, summerland
Trackback from your site.