Hot Stone Massage

Hot Stone Massage
Hot Stone Massage is offered at Le Reve Organic Spa & Boutique in Santa Barbara, California are offered 10am – 7pm daily.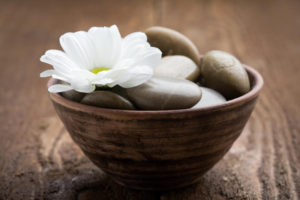 Hot Stone Massage is deeply relaxing and therapeutic. The use of warm and cold stones originates from the Native Americans and has been used for centuries for healing purposes. Hot stone massage is a variation on classic massage therapy. Heated smooth, flat stones are placed on key points on the body. The massage therapist may also hold the stones and use them to massage certain areas of the body.
* During the massage, the therapist warms up the body with traditional Swedish massage, then massages you while holding a heated stone. As the stone cools, the therapist replaces it with another.
* The therapist might also leave heated stones in specific points along your spine, in the palms of your hand, on your belly, or even between your toes to improve the flow of energy in your body.
* If you have inflammation or muscle injury, cold stones are sometimes used.
The hot stones are usually made of basalt, a type of rock that is rich in iron, so they retain heat. River rocks are normally used because they are so smooth – they have been smoothed over time by the river's current. The heat warms and relaxes the muscles, which allows the therapist to apply deeper pressure, if desired.
The warmth of the hot stones improves circulation and calms the nervous system. Some massage therapists place stones on points that are thought to be energy centers of the body to rebalance the body and mind.
So if your looking for deep bodywork combined with warmth and relaxation this is the massage for you. Le Reve has truly amazing massage therapist who are well trained in STONE THERAPY.  Massage is good for the body and good for the soul! Schedule yours today.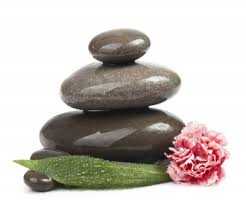 See you at the Spa for your stone massage Santa Barbara!
_:)Bridgette
---
LE REVE HOT STONE VALENTINES GIFT
Le Reve Hot Stone Massage is a fantastic Valentine's Day Gift for your loved ones this year 
Le Reve Spa Gift Cards are available to purchase in house, by phone and online. 
All Le Reve Spa Gifts come wrapped and ready to gift! 



---

Le Reve Organic Spa & Boutique
www.le-reve.com
21 W Gutierrez St Santa Barbara, Ca. 93101
805-564-2977
Tags: california day spa, day spa, day spa santa barbara, healing stone, hot stone massage, le reve organic spa, lerevespa, stone massage california, stone massage santa barbara