Naseberry Eye Exfoliant
Naseberry Eye Exfoliant
Naseberry Eye Exfoliant available at Le Reve Organic Spa & Boutique Naseberry Eye Exfoliant by Eminence Organics is available at Le Reve Organic Spa & Boutique in Santa Barbara. At Le Reve we carry so many amazing organic skincare products that we understand it may be difficult to know which ones work best for you. Sit back, relax, and follow our blog for a more detailed description of our treatments and skincare to better determine which ones are best for you. Today we would like to educate you on the Eminence Naseberry Eye Exfoliant. This phenomenal eye exfoliant works for all skin types. This exfoliant contains gentle fruit enzyme exfoliates that helps to reduce the appearance of fine lines and crow's feet for a smoother, more youthful appearance. Proper exfoliation helps your skin absorb more moisture. Moisture is the key to combating fine lines and dehydration. So it is pretty much a no brainer that proper exfoliation should be performed on a regular basis to really benefit from your eye cream.  Unfortunately, with as delicate as the skin around your eye tends to be you must be very careful not to damage it. The Naseberry Eye Exfoliant by Eminence Organics Skincare is gentle enough to remove dead skin and impurities without damaging your skin.
---
---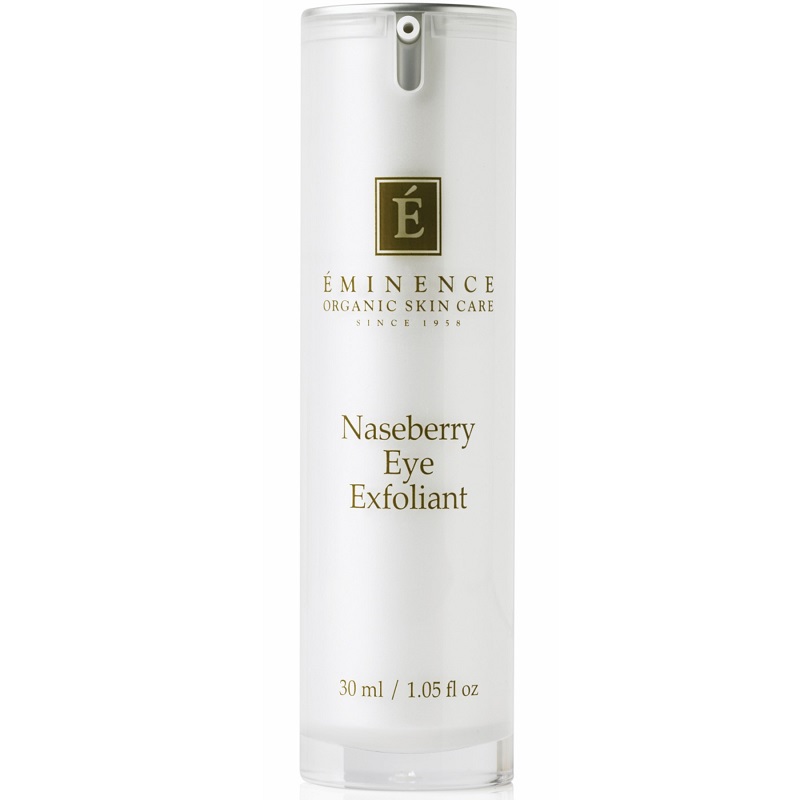 How to use
Dispense a small amount of exfoliant and apply gently around the eye area in a circular motion. Allow the exfoliant to remain on the skin for 5 minutes, then remove gently with a damp cloth. Follow with an eye masque or eye cream.
---

This superb exfoliant is Soy Free  Nut Free  Gluten Free
---
Results
The appearance of skin texture is improved and toned
Combats the appearance of fine lines, redness and puffiness
---
Treat your entire face, neck, and décoletté with an Age Defying Facial at Le Reve Organic Spa & Boutique.
---
Key Ingredients
Naseberry: gently removes dead cells
Wild Black Carrot: revitalizes the skin; reduces the look of fine lines
Raspberry: antioxidant, source of bioflavonoids
Eyebright: calms and brightens; improves the appearance of skin around the delicate eye area
Green Apple: source of vitamin C; tones, rejuvenates and nourishes the look of skin
Honey: moisturizes; nourishes the look of skin
Vitamins A, C and E: antioxidants
Vitamin K: soothes to improve the appearance of skin under eyes
Vitamin B3: revitalizing
Calendula Petals: soothing properties
Stop by our organic boutique or purchase the Eminence Naseberry Eye Exfoliant by phone at 805-564-2977
Le Reve Organic Spa & Boutique 
21 West Gutierrez Street Santa Barbara CA 93101
805-564-2977
Tags: best day spa santa barbara, dayspa, Eminence, eminence organic skincare, eminence organics, eye cream, green spa, le reve organic spa and boutique, le reve spa, organic boutique, organic eye cream, organic facial, organic facial santa barbara, organic skincare, organic skincare santa barbara, organic spa, santa barbara, skincare, skincare santa barbara, spa, spa santa barbara, things to do, things to do santa barbara
Trackback from your site.